Emotional connections have developed into a powerful tool for organizations looking to engage and inspire customers in the always changing world of marketing. Beyond product characteristics and advantages, emotional marketing aims to reach consumers' hearts, arouse strong emotions, and create enduring bonds. In this blog post, we explore the importance of emotional marketing and how brands can use it to their advantage to give their target audience memorable experiences.
Understanding the Emotional Landscape:
Humans naturally experience emotions, which have an impact on our thoughts, actions, and decision-making. As consumers, we frequently base our purchasing decisions on feelings rather than only logic. This essential feature of human psychology is acknowledged by emotional marketing, which makes use of it to develop memorable and powerful brand experiences.
The Impact of Emotional Marketing:
Building Trust and Loyalty: A brand builds trust and loyalty with customers when it emotionally connects with them. Brands can create sincere connections that encourage long-lasting partnerships by knowing the needs, desires, and beliefs of their customers. Consumers are more likely to stick with brands that make them feel good and that they are valued and understood.
Differentiation in a Crowded Marketplace: Brands have a special chance to distinguish themselves in a crowded market because of emotional marketing. Brands develop a distinctive character and forge a closer emotional connection with customers through interacting with them on an emotional level. They stand out from the crowd thanks to their emotional resonance, making an impact that endures and giving them a competitive edge.
Driving Brand Advocacy: Customers that are emotionally invested in a brand are more likely to recommend it to others and become brand champions. Customers become enthusiastic and passionate when a business connects with them on an emotional level, which inspires them to spread the word and support it. Brand recognition and reputation can be greatly impacted by this natural word-of-mouth advertising.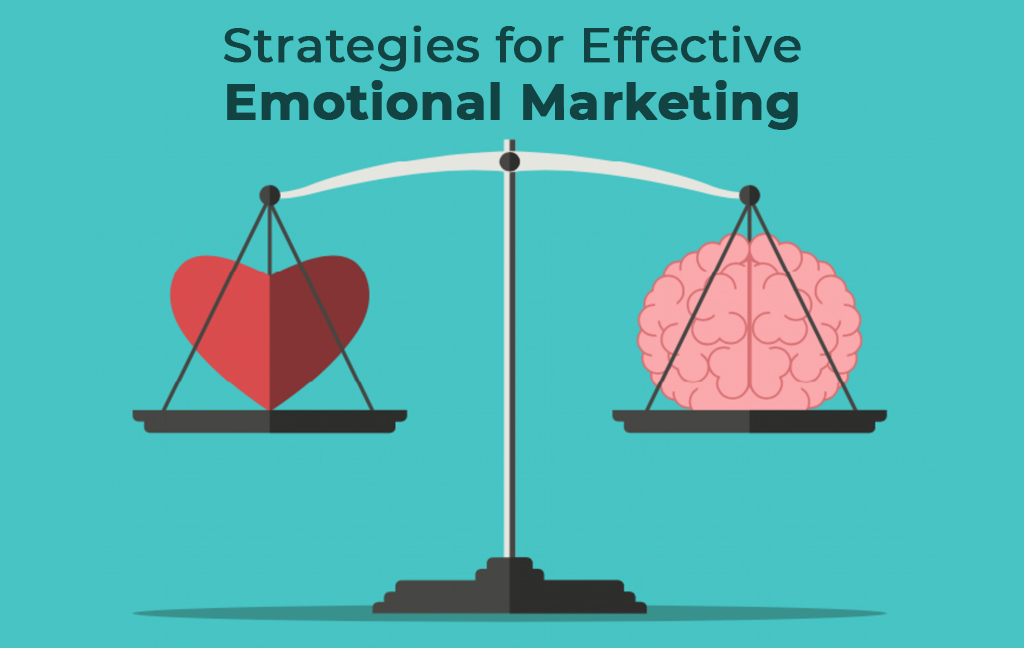 Strategies for Effective Emotional Marketing:
Storytelling: Human emotions are profoundly affected by the craft of storytelling. Brands can engage their audience on an emotional level by developing relatable, inspirational, or heartwarming storytelling. Stories inspire empathy, arouse feelings, and aid in the visualization of the brand's journey by the audience.
Personalization: Emotional involvement is increased when marketing messages and experiences are tailored to the requirements and preferences of specific customers. Personalization shows that a company has a deeper understanding of its clients, giving them a sense of value and appreciation. This can be done with tailored product recommendations, targeted information, or personalized emails.
Cause-Related Marketing: A brand can inspire strong feelings and a sense of purpose by supporting a social or environmental cause. Customers are becoming more attracted to companies that show a dedication to improving society. Customers may be motivated to choose brands that uphold their beliefs through cause-related marketing initiatives that genuinely promote worthwhile causes.
User-Generated Content: Customers' real feelings might be evoked by encouraging them to share their experiences through user-generated content (UGC). Customers can become brand ambassadors through UGC by sharing their experiences and sentimental ties to the company. By emphasizing UGC, brands may benefit from the strength of social proof and pique the curiosity of prospective customers.
Emotional marketing has the capacity to go beyond transactional interactions and establish genuine bonds between people and businesses. Brands may develop trust, encourage loyalty, and stand out in a crowded market by comprehending and engaging with the emotional landscape of their target audience. Brands can successfully win over consumers' hearts through tactics like narrative, customization, cause-related marketing, and user-generated content, leaving a lasting impression and establishing long-lasting partnerships. Emotional marketing will remain a crucial strategy for organizations wanting to forge a sincere and long-lasting relationship with their consumers as the marketing environment changes.
Keywords: #EmotionalMarketing #ConsumerEmotions #EmotionalConnection #BrandLoyalty #TrustAndLoyalty #EmotionalBranding #EmotionalResonance #EmotionalStorytelling #PersonalizedMarketing #CauseRelatedMarketing #UserGeneratedContent #EmotionalEngagement #BrandAdvocacy #DifferentiationInMarketing #EmotionalAdvertising