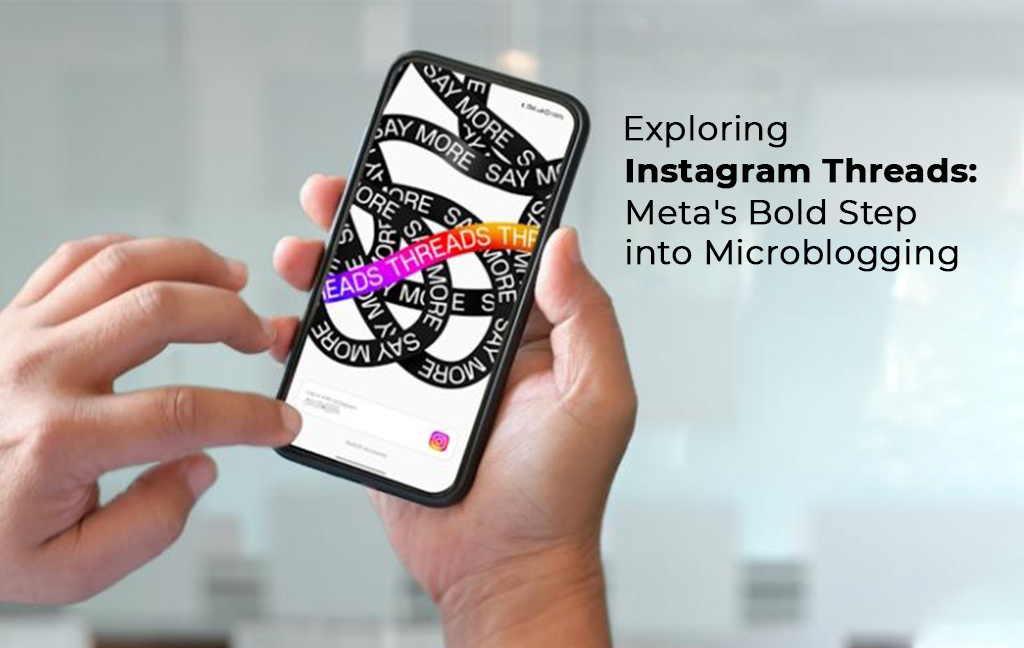 Introducing Threads: Meta's Vision for Social Networking
In a bold move by Mark Zuckerberg's Meta, a captivating social networking app called Threads has been unleashed, intriguingly reminiscent of Twitter, Elon Musk's prized possession. So, what exactly is Instagram Threads and what sets it apart from the rest?
Threads Unveiled:
Threads emerges as an innovative app from Meta, the powerhouse behind Facebook, Instagram, and WhatsApp. Developed by the creative minds at Instagram, it defines itself as an app designed for sharing text updates and immersing oneself in public conversations.
A Familiar Ring:
Interestingly, Threads bears a striking resemblance to Twitter, suggesting that Meta has cleverly identified a potential gap in the market for a microblogging social network free from the hurdles plaguing its counterpart. Curiously enough, a similarly named Threads app made headlines in 2021, only to vanish into obscurity until its grand revitalization and relaunch.
Unlocking the Possibilities:
Threads empowers users to compose messages up to 500 characters in length, a significant upgrade compared to Twitter's current 280-character limit (unless under the umbrella of Twitter Blue). Notably, this matches the default character count offered by Mastodon. Users can effortlessly include photos, videos up to five minutes long, and web links in their posts.
Navigating the Threads Universe:
Upon downloading Threads, existing Instagram account holders seamlessly sign in. Username continuity is assured, along with any verification status, while the option to customize your profile for the Threads experience adds a personal touch.
The app presents a convenient choice to automatically follow accounts from Instagram that you already engage with while also exploring and adding new accounts to your repertoire from within the Threads app. Your feed seamlessly blends posts from those you follow and curated recommendations. Replying, reposting, and quoting posts from other users are actions readily available, just as you would expect from rival platforms.
Familiar Faces:
Every new social networking venture takes time to flourish. However, given the easy access to Threads through Instagram accounts, it won't be long before user numbers soar. Notably, prominent figures such as Shakira, F1 driver Lando Norris, NBA player Seth Curry, soccer star Kingsley Coman, and the renowned Gordon Ramsay have joined the Threads community as early adopters.
Charting New Territories:
What sets Threads apart is its ambitious future roadmap. Although not currently in effect, the grand plan is to make Threads compatible with ActivityPub, a decentralized social networking protocol enabling interconnectedness between different apps employing the same protocol. Imagine seamlessly interacting with users from various social media platforms. Picture a Mastodon user requesting to follow your Threads account, and within Threads, you have the power to accept or decline that request. Consequently, you can follow their Mastodon posts within your Threads feed, all without the need for a Mastodon account. While this feature remains on the horizon, its potential is undoubtedly thrilling.
Safety First:
Threads incorporates many of Instagram's built-in features, empowering users to filter out undesirable content. Take control of who can reply to or mention you in posts, and implement a word filter to ensure specific posts never appear in your feed or replies. Accounts blocked on Instagram automatically carry over to Threads, and within the app, you have the ability to unfollow, restrict, or block accounts, granting you ultimate control over your experience.
Upholding the Community:
Threads commits to enforcing Instagram's Community Guidelines, ensuring an inclusive platform suitable for diverse audiences. Hate speech, degradation, and shaming of individuals have no place here. Meta emphasizes the staggering $16 billion invested in the technology and teams dedicated to upholding these guidelines on Instagram, assuring users that Threads will foster only "positive and productive conversations."
Privacy on the Horizon:
Though Threads is a Meta-owned app, privacy emerges as a focal point from the app's inception. Users under 18, and in some countries under 16, are automatically assigned a private profile upon initial sign-in. They hold the power to approve followers on Threads, much like the functionality on Instagram. Additionally, privacy features familiar to Instagram users, such as the ability to block or report other accounts, are integrated into Threads, providing a sense of security within the platform.
Embarking on the Threads Journey:
Threads is set to roll out in over 100 countries worldwide starting from July 6, 2023. The app is currently available for both iOS and Android users, offering convenient downloads from the Apple App Store and the Google Play Store, respectively.
Intriguingly, this Meta creation ventures into the realm of social networking, aiming to carve its own path while embracing the familiarity of platforms like Twitter. Threads opens the doors to enhanced character limits, multimedia content, and the promise of future interconnectivity. With privacy and user control at its core, this app sets out to foster positive and engaging conversations in the digital landscape.
As you embark on the Threads journey, you may find yourself diving into an exciting realm where microblogging meets innovation, all within the palm of your hand. Join the community, explore its potential, and witness the evolution of social networking in the vibrant world of Threads.
Keywords: ThreadsApp #MetaThreads #SocialNetworking #Microblogging #InstagramThreads #NewAppRelease #TechNews #DigitalCommunication #SocialMediaInnovation #OnlineConversations #MetaRevolution #SocialMediaEvolution #DigitalCommunity #TechUpdates #SocialNetworkingPlatform #ConnectivityRedefined #InnovativeApps #OnlineEngagement #StayConnected #TechTrends