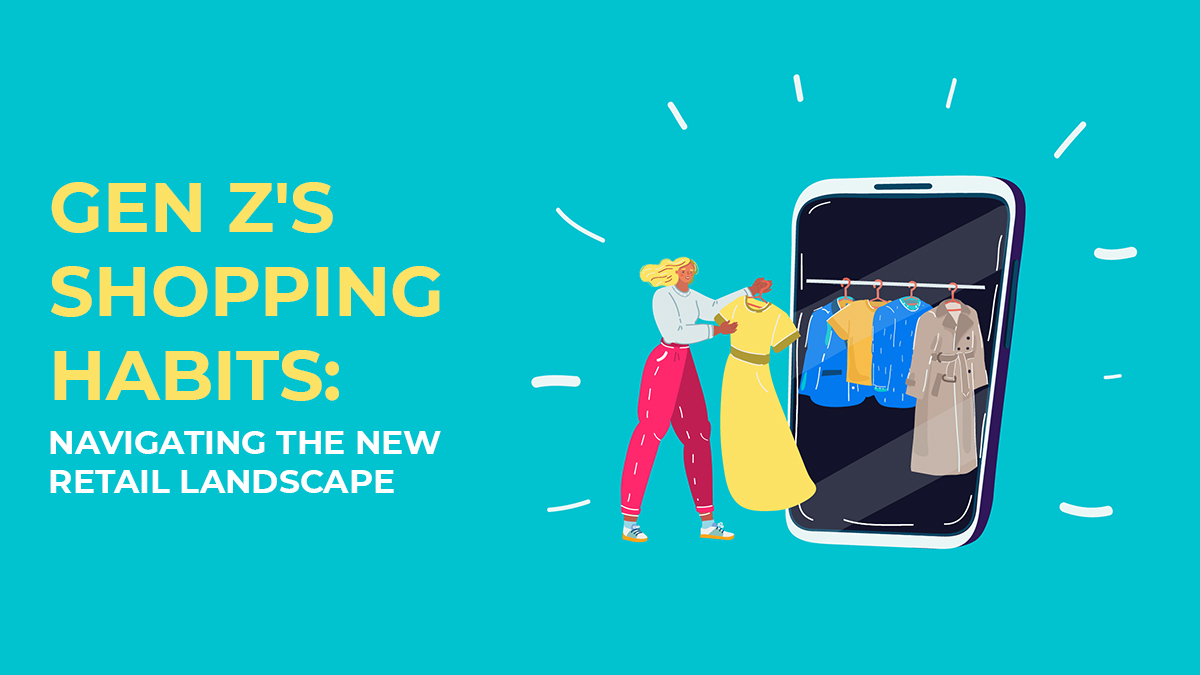 The emergence of Gen Z, the demographic cohort born between the mid-1990s and early 2010s, has revolutionized the retail landscape. As digital natives, Gen Zers have grown up in a world shaped by technology and have unique shopping habits compared to previous generations. This blog will explore the shopping preferences and behaviors of Gen Z, shedding light on the factors that influence their purchasing decisions and how businesses can adapt to meet their needs.
The Rise of Digital Shopping:
Gen Z is known for its affinity towards digital platforms, and their shopping habits reflect this trend. Online shopping has become their preferred mode of purchasing goods and services. With the convenience of e-commerce platforms, Gen Zers can effortlessly browse and compare products, read reviews, and make purchases at any time from anywhere. The rise of social media and influencers has also played a significant role in shaping their shopping choices. Gen Z heavily relies on social media platforms for product discovery, seeking inspiration from influencers and engaging with brands directly.
Authenticity and Sustainability:
Unlike previous generations, Gen Z values authenticity and sustainability in their purchasing decisions. They prioritize brands that align with their values, such as social responsibility, ethical sourcing, and environmental sustainability. Gen Zers are more likely to support businesses that have a positive impact on society and the planet. They are willing to pay a premium for products that are ethically produced and eco-friendly. To cater to this trend, retailers need to emphasize transparency in their supply chains, adopt sustainable practices, and communicate their commitment to social causes effectively.
Personalization and Experiential Retail:
Gen Z seeks personalized shopping experiences that go beyond just transactions. They value brands that understand their individual preferences and provide tailored recommendations. This generation appreciates curated collections, limited editions, and unique products that allow them to express their individuality. Furthermore, Gen Zers enjoy immersive and experiential retail environments. Physical stores that offer engaging experiences, such as interactive displays, Augmented Reality (AR), or Virtual Reality (VR) try-on options, can capture their attention and foster brand loyalty.
Mobile Shopping and Social Commerce:
Smartphones have become an extension of Gen Z's lifestyle, and mobile shopping has become their go-to method. With the advent of mobile payment solutions and user-friendly apps, Gen Zers can seamlessly make purchases with just a few taps. Moreover, social commerce has gained immense popularity among this generation. They are more likely to make purchases directly through social media platforms, thanks to features like in-app shopping and shoppable posts. Brands need to have a strong mobile presence and a social media strategy that allows Gen Z to engage and transact effortlessly.
Understanding Gen Z's shopping habits is crucial for businesses to thrive in the new retail landscape. With their preference for digital shopping, authenticity, sustainability, personalization, and mobile-first approach, Gen Zers present unique challenges and opportunities for retailers. To succeed, businesses must embrace digital technologies, prioritize sustainability and social responsibility, and create personalized and immersive experiences. By adapting to Gen Z's preferences and values, retailers can build lasting relationships with this influential consumer group and navigate the evolving retail landscape successfully.
Keywords: #GenZ #ShoppingHabits #RetailLandscape #DigitalShopping #OnlineShopping #SocialMedia #Influencers #Authenticity #Sustainability #EthicalSourcing #EnvironmentalSustainability #Transparency #Personalization #ExperientialRetail #CuratedCollections #LimitedEditions #Individuality #MobileShopping #SocialCommerce #Smartphones #MobilePayment #UserFriendlyApps #SocialMediaStrategy #Engagement #DigitalTechnologies #ImmersiveExperiences #SustainabilityAndSocialResponsibility #LastingRelationships #EvolvingRetailLandscape